Wedding Traditions and Customs: Follow the Crowd or Do Your Own Thing?
December 27 2020 – Mike Yarbrough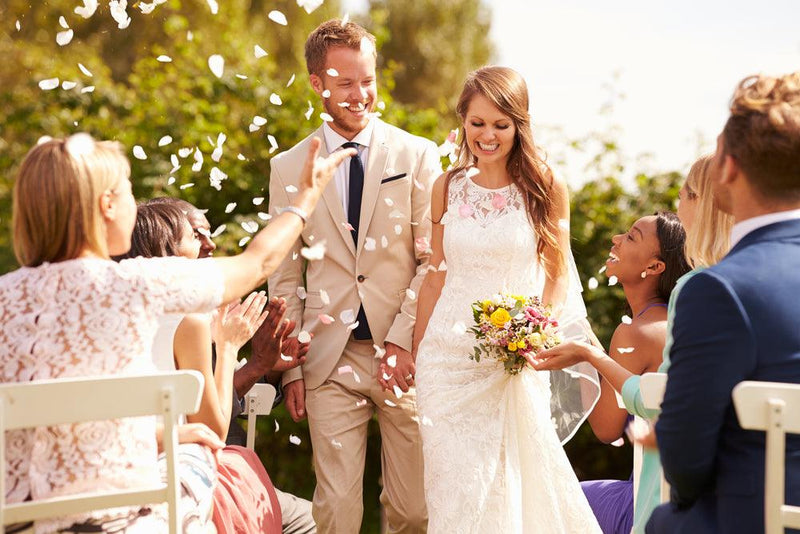 Wedding traditions and customs are as unique and varied as the couples who follow them. Whether you choose to stick close to the tried-and-true or blaze your own trail, you should still understand the significance of the meanings behind all the different traditions that come together to make your wedding special. 
Your wedding is all about dedicating yourselves to one another and celebrating your one-of-a-kind love story, which means you have the freedom to bend those traditions as you see fit. You may even choose to start some traditions of your own. In this blog, we'll discuss the most common wedding traditions and customs and how you can incorporate them into your ceremony.
Roles of the Bride and Groom
One of the first things you and your spouse-to-be should do during the wedding planning process is sit down and figure out your roles. Who is going to do what? The division of labor is completely up to you but, typically, it is divided in the following ways:
The Bride:

Choose bridesmaids and maid of honor. Oversee the wedding dress and bridesmaids' dresses. Choose

bridesmaids' gifts

and host bridesmaids' luncheon. Buy a gift for the groom. 

The Groom:

Choose the best man and groomsmen and plan their attire. Arrange marriage license and officiant. Buy

gifts for the groomsmen

and for the bride. 

The Bride and Groom Together:

Set the budget. Choose

wedding date

and location. Meet with the officiant to plan details. Coordinate invitations, photographer, catering, entertainment and decor. Write wedding vows. Send thank-you notes.
Make sure you have a discussion about money at the beginning of the planning process. What is the budget for your wedding? Who pays for what? How much will each of your families contribute? Ask those tough financial questions.
Wedding Ring Traditions
From ancient Egypt to the Fede and Claddagh rings in Europe, customs surrounding wedding rings go back thousands of years and differ from country to country. From the materials your rings are made of to how you choose to wear them, your rings can say a great deal about who you are and what you value. 
Diamond Rings 
It was only in the late 19th century that diamonds became widely available. Diamonds were not a mainstream choice until after the Great Depression, when some savvy marketing by the diamond company, De Beers, made them the new standard wedding ring stone.
On the other hand, many couples choose diamond alternatives, either for budgetary reasons, ethical reasons, or simply because diamonds are too much of a cliche. Common diamond ring alternatives include: 
Moissanite stones

Ruby, sapphire or topaz wedding rings

Alternative metals, such as titanium and platinum

Non-traditional ring materials like wood, leather or

elk antler
Passing Rings Down
Many families choose to pass down wedding rings through the generations. This creates a deep connection with one's heritage, and can add to the feeling of becoming a family when you get married. Even if your wedding rings are brand new, you may choose to start your own tradition by passing them down to your children. 
Proposing
The moment of the proposal is a big one, and most prospective husbands understandably feel quite a bit of pressure! Whether or not you choose to get down on one knee, as tradition dictates, is up to you -- but still make the moment as special as you can. 
Think long and hard about the time and place of your proposal. Choose a significant location—the place you met, the restaurant where you had your first date, a favorite park—and choose a time when you know there are no distractions or other issues weighing on your minds.
Wedding Venue Traditions
One of the first big choices that come up during the wedding planning process is a fundamental one: where to get married? Agreeing on a wedding venue isn't always easy; depending on your personal preferences, values and religious backgrounds, it will likely require more careful consideration. 
Traditional Wedding Venues
Churches and similar houses of worship are some of the most popular traditional wedding venues, but they're far from the only options. Hotels, ballrooms, restaurants and country clubs have all become common venues as well. 
Non-Traditional Wedding Venues
Non-traditional wedding venues are becoming increasingly popular as more couples choose to have their weddings in locations that are significant to them. From rustic barn weddings to parks, gardens or even your own backyard, the options for a non-traditional venue are virtually limitless. 
Wedding Ceremony Customs
Today's wedding traditions and customs are influenced by many cultures, and date back to every era of human history. In fact, the expression "tie the knot" comes from the Celtic tradition of a handfasting ceremony. With its roots in Scottish and Irish culture, this is a tradition that many couples still choose to incorporate into their wedding ceremony.
Wedding Parties
It is customary for the bride and groom to choose a maid of honor and best man, respectively. Additionally, the bride and groom will be selecting several bridesmaids and groomsmen. This group is collectively known as the wedding party, and you may choose to give each person a particular job or role. 
Wedding Gifts
Traditionally, the bride and the groom elect to give each other a gift on their wedding day. It doesn't have to be large or expensive, but should be a meaningful token of your love and devotion to one another.
Wedding Dress
Queen Victoria popularized the idea of wearing a white wedding dress when she married in 1840. Today, white wedding dresses are most common in western marriages, but many brides may choose different attire to reflect their cultures or beliefs. 
Wedding Cake
Wedding cakes have evolved over the centuries, but this wedding staple has its roots in ancient Rome. Many couples choose to observe the tradition of serving a wedding cake, and cutting the first slice together. 
Name Change Traditions
The bride traditionally takes her new husband's last name upon getting married (the process of changing one's name legally is fairly simple and straightforward). It is also an option for the husband to take his wife's name, or for both parties to keep their original names. 
Honeymooning
The tradition of a honeymoon dates back to the 5th century, but it wasn't until the 19th century that it became common for newlywed couples to go on a vacation or holiday after getting married. These days, planning and budgeting for the honeymoon can be almost as big a job as planning the wedding itself. From the local to the exotic, and from the rustic to the extravagant, it boils down to picking a place that feels fun and special to you and your new spouse. Taking a small trip immediately after the wedding, and then going on a more luxurious destination honeymoon later on is not uncommon, especially now with COVID.
Wedding traditions are just that: traditions. Don't feel obligated to follow them if they feel outdated or don't necessarily apply to your particular wedding. Choose the customs that are meaningful to you and your spouse… and make sure you get the wedding rings to match! At Rustic and Main, our creative team of craftsmen will work with you to build a custom wooden wedding ring you're sure to love. Take our ring style quiz to get started!