Why and How to Upgrade Your Wedding Ring
December 13 2020 – Mike Yarbrough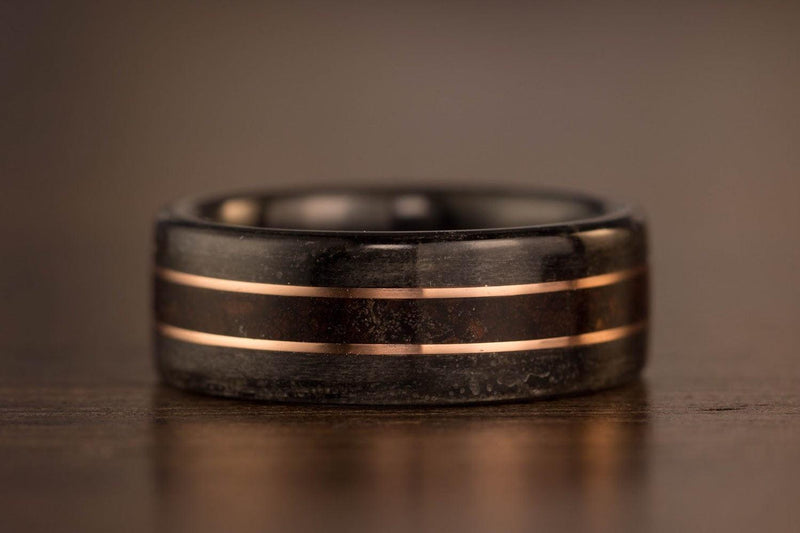 For many, a wedding ring is a symbol of love that should remain unchanged from the first moment you put it on your finger. Others may, for a variety of reasons, decide to alter or upgrade their ring as time goes on. 
If you're wondering whether now is a good time to upgrade your engagement ring or wedding ring, first have a talk with your spouse. If you both agree it's something you want to do but you're wondering how to upgrade your ring -- or when the right time to do it might be -- then we're here to help. 
Why Upgrade Your Wedding Ring?
You likely have your own unique motivations for deciding to upgrade your wedding ring. There are no right or wrong reasons, but these are some of the most common: 
Your ring is showing its age.

If your ring is looking a little worse for the wear—the metal is tarnished, the stones sit loose in their settings—it might be time to give it some professional attention. Whether that means a true upgrade or just a tune-up is up to you!




You want to update the look.

It's entirely possible for your tastes to change over time. Maybe diamond rings aren't really your thing anymore. Maybe you want to replace your gold band with a silver one. A ring that was in style decades ago may seem to you outdated today, which is another reason to upgrade.




Your budget has changed.

Times change, and the circumstances of our lives change with them. Perhaps you weren't able to afford the ring of your dreams at the time of your wedding, but you now find yourself in a position to upgrade it all these years later. This is the time to choose a ring you've always wanted.




You've reached a milestone.

Many couples decide to upgrade their rings to commemorate reaching a major landmark in your marriage, such as an

anniversary

. Or maybe you've chosen to renew your marriage vows and you want to upgrade your rings to celebrate the

vow renewal

.




You need to resize.

If your fingers have gone up or down a size or two, your ring may need to be resized to

fit more comfortably

. Having your ring resized is usually a simple procedure, and it offers an opportunity to consider making some other changes.




You've lost your ring.

Losing a ring is incredibly stressful. If you lost yours (or you suspect it was stolen) and you've gone through all the usual steps—retraced your steps, filed a police report, contacted local jewelry stores and pawn shops—having a new ring made is an option. You can choose to upgrade to a ring you've always wanted, or get a ring that closely resembles your old one. 
How to Upgrade Your Wedding Ring
Upgrading your wedding ring isn't always about adding more glitz and glamour. It's more about making your ring reflect where your relationship is today, rather than where it was five, ten or twenty years ago. These are a few ways to accomplish this:
Replace or upgrade stones.

Switching out a stone is one of the most common wedding band upgrades. There are plenty of options here, from

replacing the center diamond

or stone—perhaps with something that has a little more color or sparkle—to enhancing the accents. You can also keep your current center stone, but update the style of setting it's in. There are enough diamond upgrades alone to make your head spin: adding side stones, changing the diamond cut or diamond shape, buying a ring enhancer… the list goes on.




Refinish and restore.

Not all upgrades represent a complete overhaul. In many cases, you may simply want to restore your ring to its former glory, which involves refinishing and polishing the ring, and/or securing the stones in their settings.




Change the metal type. If you'd like the metal of your ring to be changed or upgraded, there are a variety to choose from. You can keep your existing stones and use them in a new setting. Replacing white gold with platinum is a popular upgrade, since platinum has a similar appearance but doesn't tarnish as easily.

Have your ring resized. Your ring size can change over time for any number of reasons. Resizing is a simple upgrade to make your ring fit more comfortably, whether or not you want any additional changes.


Add an engraving.

Having your ring engraved is a great way to mark an anniversary or other milestone. Depending on the size and amount of free space available on your band, engraving should be a straightforward process. You can

engrave anything

from a date or a set of initials to a line of poetry or part of your vows.




Start from scratch.

The most thorough upgrade of all is a complete overhaul, scrapping the old ring and creating a new one in its place. This is an option for couples who feel like their original rings didn't truly represent their love story, or they feel like their love story evolved and they want their ring to evolve too.
Creating a Meaningful Wedding Band
If you didn't have the opportunity to get the wedding ring of your dreams when you first got married, creating a custom ring with materials that are meaningful to you and your relationship is a great option (and one that would make a fantastic anniversary gift). Take our ring style quiz to make sure you're getting the right ring for your unique style.