Customer Story Behind The Ring: A Jurassic Wedding
June 10 2022 – Summer Yarbrough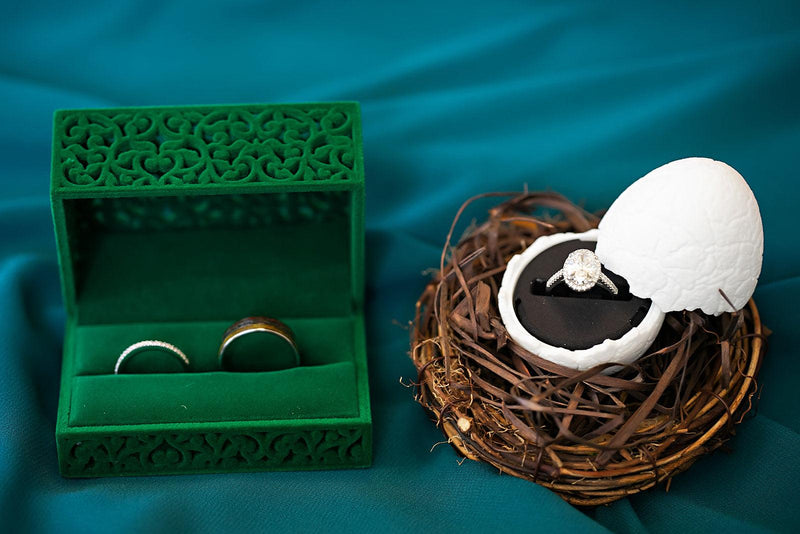 We're inspired by great storytelling, and often we love to commemorate our favorite storyteller or tales with our ring designs. The Oxford Don was inspired by our favorite British authors, J.R.R. Tolkien and C.S. Lewis. Johnny Cash, the king of country music himself, inspired The Man in Black, and Jurassic Park gave us the inspiration behind The Jurassic ring. 
The Jurassic Park Saga is more than some mere movies and novels. It has become a fixture in American culture. Since we were creating a ring based off this bigger than life story, we knew we had to use some pretty special materials. We think it's safe to say we landed some inlays that are pretty much out of this world. 
Ring Description
This titanium band features inlays of fossilized amber, meteorite dust, and actual dinosaur bone. 
The Titanium Band
The titanium band is both sturdy and lightweight and has a comfortable fit, so you won't be bothered by the weight of a heavy ring.
The Fossilized Amber
With amber being such an iconic element from the Jurassic Saga, we had to include 
fossilized amber
 in this design. The ancient tree sap has a gorgeous honey color that gives the ring a subtle, earthly quality. 
The Meteorite Dust
The meteorite dust comes from the 
Muonionalusta Meteorite
. The black dust has a silvery tone reminiscent of a starry night, reminding us that this material is otherworldly. Since its discovery in northern Sweden in 1906, only 40 pieces of the  Muonionalusta Meteorite have been found, so Rustic & Main is thrilled to have this unique material in stock. 
The Dinosaur Bone
We feel like the dinosaur bone is what lets this ring deserve to be called the Jurassic. The 
agatized dinosaur bone
 is a rare form of dinosaur bone where, over time, the mineral in the soil starts replacing the cells of the bones. This process results in a burnt sienna, reddish color. 
A Jurassic Wedding
You know people are big fans of Jurassic Park when they have a Jurassic Park themed wedding!
Most couples try to find subtle ways to 
incorporate their story
 into their special day, but when you have a super creative mind and are passionate fans of Jurassic Park, like Cherine and Dan, you end up having a wedding that is downright show-stopping. 
Cherine & Dan's Story
Both Cherine and Dan had grown up loving the Jurassic Saga and even had the same Jurassic Park trapper keepers when they were in elementary school.
Their first date was to an arena showing of  
"Jurassic World Live"
, which unbeknownst to them, was for children.
Despite the awkwardness of being the only adults at the event without kids with them, the couple must have hit it off!
When it came down to prepping for their big day, Cherine and Dan wanted a wedding that celebrated their love of Jurassic Park while still having elegance and class. Cherine had to DIY her way through many of the decorations, and Etsy was a Godsend for unique items like the ring box for Cherine's engagement ring. It looks like actual dinosaur egg! She also used her DIY skills to create a little nest for the egg-shaped box to rest in. 
Cherine spent hour upon hour hand-sealing the Jurassic Park logo onto her and Dan's wedding invitations.
Dan and Cherine also put together their reception table centerpieces themselves, which featured little golden dinosaurs in handblown glass terrariums.
They even figured out how to drain the contents of an ostrich egg, so they could feature the gigantic eggshell at their sweetheart table! 
Sadly, Jurassic Park was not an available venue, but the couple decided to make do with having their wedding in 
The Florida Aquarium
 in Tampa. The couple said their vows in front of a shark tank, which is pretty much the next best thing to the Tyrannosaur Paddock. 
Cherine walked down the aisle to the Piano Guys' version of the Jurassic Park Theme song, and a blast of bubbles went off in the shark tank when the couple had their first kiss. The couple's walked out to the end credit music of their favorite dinosaur film to a reception that did not disappoint the newlyweds.
Cherine brought her inflatable dinosaur costume, hoping someone would stomp around in it at some point during the night. One of Dan's brothers made the bride's dream come true, and they caught a picture of a dino at their wedding! 
Finding The Jurassic Ring
Leading up to their fantastic, Jurassic Park wedding, Cherine was looking for a ring for her husband-to-be. When she came across Rustic & Main's Jurassic ring in a Facebook Ad, she knew she found the perfect wedding band for the man that took her on their first date to "Jurassic World Alive". When she showed him the ring online, Dan's face immediately lit up with a smile, and they decided to go for it. At the wedding reception, Dan could not stop talking about his Jurassic ring to his friends, with its unique inlays of fossilized amber, meteorite dust, and dinosaur bone. It was the perfect ring for this groom/Jurassic Park fan. 
Tell Your Story With Rustic & Main
Cherine and Dan pulled off a perfectly tasteful, Jurassic Park themed wedding, incorporating the movie saga that they both cherish. If you're a fellow dinosaur fan, check out 
The Jurassic
  for yourself, or see our other ring designs and customization options on our website.