Can You Finance a Wedding Ring?
April 01 2021 – Mike Yarbrough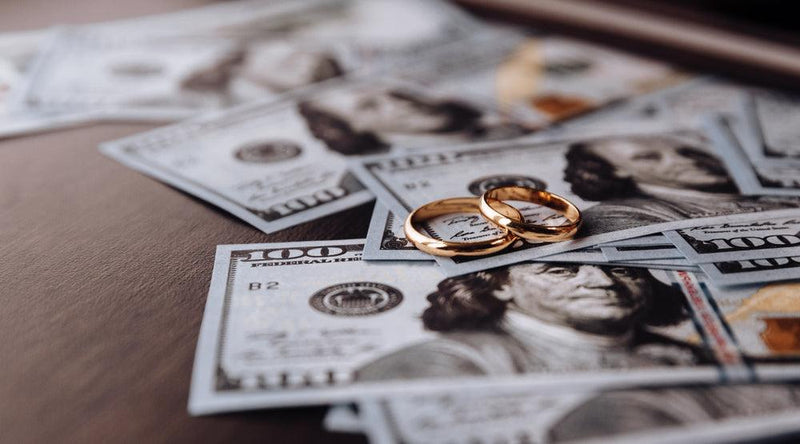 Getting engaged and getting married should be two of the most thrilling and life-changing moments you'll ever experience. Unfortunately, the stress of financing an engagement ring or a wedding ring can occasionally put a damper on the excitement.
At Rustic & Main, we firmly believe that the story behind your ring is more important than the price tag on it and your marriage doesn't have to begin by going into debt. Luckily, paying for your ring doesn't have to be an ordeal. There are plenty of wedding ring financing options out there that don't involve digging yourself a giant financial hole. 
Set Your Budget and Save
Before you figure out how you're going to pay for your wedding ring and engagement ring, ask yourself how much you're willing to pay. Take some time to realistically assess your finances and determine a reasonable amount to spend. A couple things to keep in mind: 
The old "two-months-salary rule" suggests that you should spend the amount you make in two months on an engagement ring.

You don't have to follow this rule

.





The

median price of an engagement ring

in the U.S. is $1,900, with some estimates as high as $3,000.

You don't have to spend that much

.
The amount you spend on rings really depends on how extravagant you want to be, your overall wedding budget and, to some extent, your spouse-to-be's expectations. If you have your eye on a ring that costs more than you can afford, and you're simply not willing to settle for less, ask yourself: how do I get there? Sometimes it's worth delaying popping the question for a few extra months while you work extra shifts to save up for that ring. After all, the more you pay upfront, the less you'll pay in interest. 
Talk to Your Jeweler
Okay, so you've found a ring you love. Now what? Before you start thinking about taking out a loan, talk to the jeweler. Most jewelers offer financing options of their own and you may be able to get a better deal by financing your ring through them directly.
While it's common for jewelers to offer deals like interest-free financing for a certain period (often 6 or 12 months), some jewelers, especially big national chains, tend to stick you with exorbitantly high interest rates. If you don't fully pay for the ring before the interest-free period ends, you could end up paying much more in the long run. 
Always check to see what the jeweler is willing to offer because you could get a great promotional deal. Just watch out for high interest rates, hidden fees and charges.
3 Financing Options
In the event that paying cash or working with the jeweler aren't options for you, there are other roads you can take. If you absolutely, positively must, there are a few ways to finance a ring that involve borrowing money, in one form or another, and paying it back over time:
1. Finance Through a Personal Loan
This often seems like a quick and easy option, but be cautious about taking out personal loans. The best case scenario, depending on your credit score and other factors, is securing a loan with a low fixed rate from 12 to 48 months. If you can pay for the ring within that time frame, this isn't the worst option, but you'll still end up paying at least some interest.
2. Finance Through a Credit Card
Like many other large purchases, it's common for people to finance their engagement ring with a credit card. It can be a decent option if you use a card with low interest and a good rewards program, and if you're able to pay it off quickly. Otherwise, you could end up digging a hole for yourself.
3. Talk to Your Friends and Family
If you have close friends or family members who might be willing and able to help you out with a loan, talk to them about it. But treat it like a proper loan: contract, terms, and penalties for nonpayment.
Financing your wedding and wedding rings can often lead to unnecessary stress for engaged or newlywed couples. If you're looking for a way to finance your wedding rings without all the anxiety, Rustic & Main has some options for you. We're able to offer 0% APR financing through our partnership with Affirm and a variety of monthly payment plans. Feel free to reach out to our live chat team any time to learn more.
And if you're still shopping for your wedding rings, take our ring style quiz to make sure you're getting the perfect ring that matches your style. You can also visit our ring customizer page to start designing your own custom wedding band today!