Fun Facts About Our New Jewelry Retail Store in Cornelius, NC
October 17 2023 – Summer Yarbrough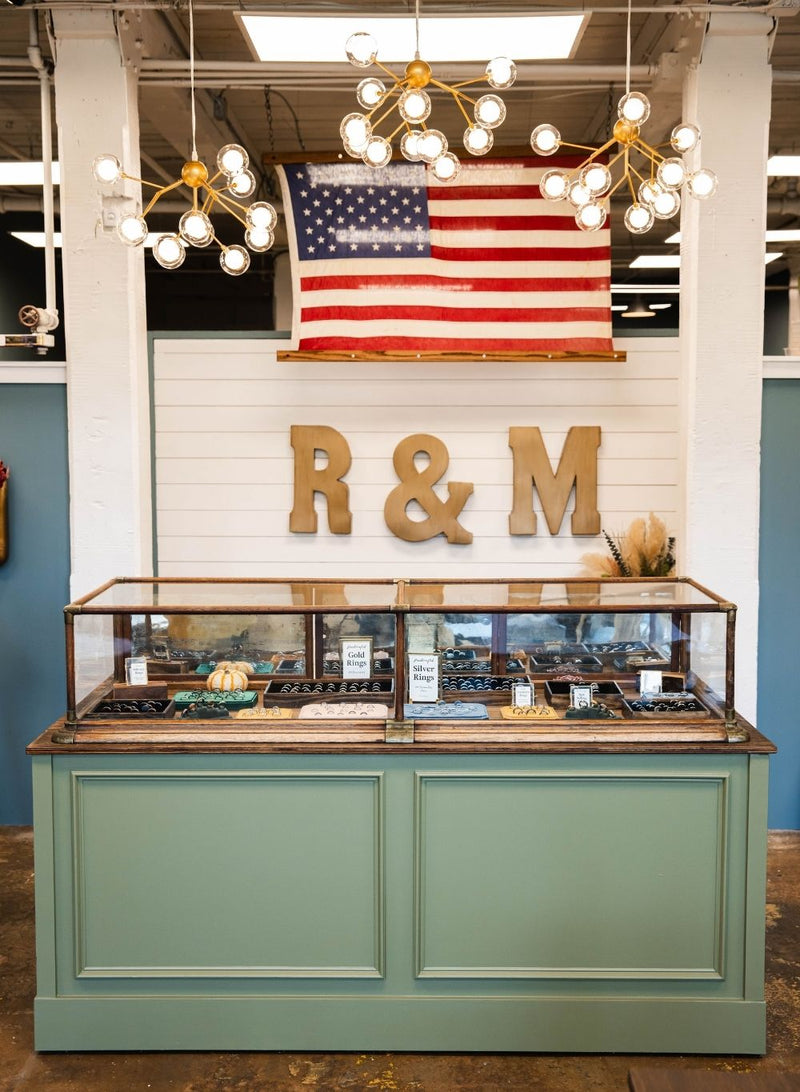 It's hard to believe that seven years ago, R&M was a three-person operation working out of Mike & Summer's garage, and now, we've moved into this beautiful space that showcases our handcrafted rings and tells our story.
As an eCommerce brand, we have the pleasure of handcrafting rings that tell a story for people all across the world, from Alaska to Australia. We've loved connecting with so many incredible customers, but we felt we were missing out on building deep relationships with our North Carolina neighbors. Our prior space was in a business park next to our ring crafting shop, and while it was amazing to have the whole team together, we were a bit hidden away from the community since it wasn't a typical place for a jewelry store.
Luckily, this year, we opened our new retail location in Cornelius, NC, and our team has done an incredible job setting up the place. Here are a few fun facts about our new jewelry store in Cornelius!

Our New Location Used to be a Mill
We were thrilled to find a retail space in a building with a history of its own. According to Visit Lake Norman, Oak Street Mill once was known as The Gem Yarn Mill, which served as a cotton mill for over 50 years till it closed in the 1960s.
Historic Decor for Our Unique Jewelry Store
We're passionate about working with materials that tell a story, whether we're ring crafting or decorating. While we like color and modern touches in our space, we incorporated Americana, historic items, and even materials we use in our rings to make our retail store feel authentically R&M. Our co-founder, Summer, truly has a gift for interior design and curated this beautiful space to balance all the rustic elements we appreciate for their history with the Main Street style we love.

Our Ring Display Case
This beauty is a combination of a vintage piece and Mike Yarbrough's handiwork. Mike, R&M's founder, has a knack for woodworking and built the counter himself, and the vintage display case is from the early 1900s. We think it does a great job of showing off our handcrafted rings while being a special piece in and of itself.
USS Battleship Teak
One of the materials we're known for featuring in our rings is historic battleship teak, so it had to show up in a place or two around the store. The most eye-catching piece we have has to be the USS North Carolina teak plank hanging up in our sitting area. This battleship has a sentimental place in our hearts since it has a lot to do with one of our first ring designs, The USS North Carolina.
Our connection with battleship teak has only grown with time, as we've created new gold and titanium designs from the USS North Carolina battleship teak, and even created bands with teak from other battleships, like the USS New Jersey and the USS California. It's incredible to have this teak plank in our space that holds American history and tells R&M's story.
Our Ring Collection Shelves
We wanted to display our rings in a distinctive way while also showing the variety of materials we work with, so we landed on creating collection shelves. Our team did a great job putting together these ring displays that feature materials we craft rings with, like antler, historic woods, florals, meteorite dust, iconic whiskey barrel wood, and even coffee.
With our ring collection shelves, we also have handcrafted gifts that are perfect for groomsman gifts or other special occasions. We source these from some of our favorite American-made brands, and the nearest & dearest has to be Mike's other business, Wolf & Iron. If you are in the market for natural beard care or some delicious, locally roasted coffee beans, you'll have to stop by and check out a few of these W&I wares.

Americana
When you come by, you will see Americana throughout our shop (the American flag above our counter might stand out the most). We're an American-made brand that loves our country and deeply respects our Nation's history. While we, of course, love how all these beautiful pieces look in the store, we also appreciate how they remind us of our roots.
Mike's Vinyl Collection
We figured if we were going to have music in our retail space, it would be a shame not to get a record player so we could play some vinyl from Mike's collection. Not only does it sound great, but it adds that extra touch of personality that you can only get by going analog.
There's a Lot of Fun Things to Do in Cornelius: Check out These Local Businesses
If you want to explore Cornelius more, here are a few places close by R&M you can check out!
Oak Street Mill Antiques
Our upstart neighbors are certainly fueling our antiquing addiction! Oak Street Mill Antiques is a must-visit if you love the vintage things in life. They feature fun antique displays throughout their store, and it's hard NOT to find an item that inspires you. We've even picked up a few pieces from Oak Street Mill Antiques for our ring photoshoots!
Local Bridal Boutiques in Cornelius NC
If you want to knock out more wedding planning errands after your ring consultation with R&M, you could check out a couple of local bridal boutiques, Anjolique Bridal Alterations Studio or Classic Bride Bridal Boutique.

Stop by for a Visit
We are so excited to have joined the Cornelius community this year and that we got to create a space where we're proud to sell our rings. We would love to see you stop by for an in-person appointment with our customer service team. Walk-ins are welcome as well! If you can't make it by the shop before your big day, we also offer online shopping resources, such as virtual ring consultations, our ring inspo gallery, and of course our ring customizer tool which allows you to start customizing a ring that tells your story in real time. We can't wait to hear from you, whether that's online or in-person.