How to Plan a Micro Wedding
January 31 2021 – Mike Yarbrough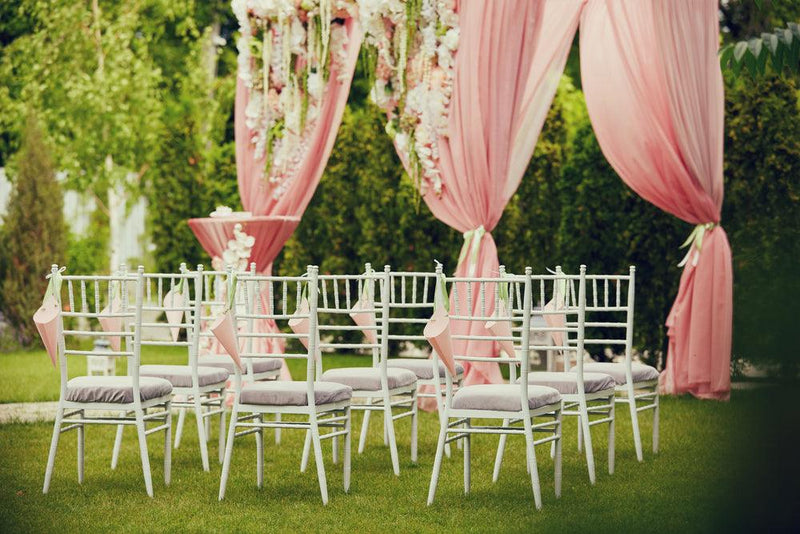 If you're planning a drastically scaled-down wedding in 2021, you're not alone. Micro weddings have always been an option, but they're becoming more popular than ever and it's not only out of necessity. They're easier to plan, less expensive to execute, and offer an opportunity to make your wedding a more unique and personal experience. Here's what you need to know about how to plan the micro wedding of your dreams.
Find the Perfect Venue
Planning a micro wedding might feel like you're limiting yourself, but when it comes to selecting a micro wedding venue, the opposite is actually true. One of the biggest advantages of a micro wedding is that it opens up the venue possibilities, including places that might not work for a larger event. 
If you keep your group size small enough, you can say "I do" just about anywhere. Get married in a rustic barn or a private garden, a beloved restaurant or your favorite art gallery, a family home or a boutique hotel. Even destination weddings are quite feasible when you downsize. 
Select Your Guests
Creating the guest list can be the hardest part of planning any wedding, but a micro wedding makes that task even more challenging. There's no firm rule for how many guests you can have at a micro wedding, but around 25 or less is a good guideline. 
The best approach is to invite only you and your fiancé(e)'s closest friends and family members. Make a list of the people you absolutely need to have at your wedding, and go from there. Parents, siblings and a small wedding party for the bride and groom are the bare minimum.
Choose Your Rings
Even with the smallest of weddings, your rings are still a crucial part of the ceremony! Make sure you take time to choose the rings that best fit each of you. Turnaround time can vary from jeweler to jeweler so be sure to see how long of a wait there is. Custom and unique rings are on the rise in popularity so there are more options out there now to choose from and find the perfect ring.
Choose Your Vendors
Micro weddings still have many of the characteristics of a larger wedding, just on a smaller scale. The core group of vendors and roles will remain mostly the same, you just won't have to worry about hiring wait staff, hair stylists or a costly wedding band. Here's who you can't (or probably don't want to) go without: 
The Officiant.

Whether you choose a judge, clergy member or have a friend get ordained just for the occasion, this is one person you really can't get married without!




The Photographer.

A wedding photographer will memorialize your big day forever. They're even more important if you're having a small wedding and want to be able to share the memories with those who couldn't be there.




The Florist.

Even if you're having the tiniest of ceremonies, proper floral arrangements can make it feel more like a  traditional wedding. At the very least, consider a bouquet for the bride and a boutonniere for the groom.




The Caterer.

You and you guests still need to eat, even if there aren't that many of you. While a micro wedding doesn't necessarily require you to hire professional catering, you'll want to figure out a way for your guests to wine and dine.

Pick the Right Day
Saturdays have always been the most popular wedding days, but Thursday and Sunday weddings have experienced a significant uptick in the last year. Consider having your wedding on a weekday to ensure the availability of your venue, vendors and photographer. 
Season and time of day are important too. Take into account what the weather will be like, especially if you have an outdoor ceremony in mind, and pick an hour when the lighting will be just right for photographs. The magical golden hour is at a different time depending on the season, so look that up before you lock the ceremony time in place. 
Make It COVID-Safe
While there are numerous advantages of a small wedding, the reality is, the pandemic is the biggest reason why most couples have chosen a smaller, more intimate affair this year. As you're planning your micro wedding, keep the health and safety of your guests and yourself at the forefront:
Provide safe seating that allows guests to social distance. 

Offer single-serving food and drinks. Think of the reception as more of a dinner party where people can interact in small groups.

Set up alternative entertainment, like lawn games, so that guests can safely have fun.
Make Every Detail Count
A micro wedding pares down your wedding and reception to the bare essentials. That can be a great thing because it gives you a chance to make sure every element of your wedding is personal and meaningful. From the venue you choose and the way you decorate it, to the food you serve and the guests you invite, each aspect of your micro wedding should reflect your values, your love and your traditions.
Like every other element that makes up your perfect micro wedding, your wedding rings can represent who you are and the commitment you and your soon-to-be-spouse have made to one another. From finding your ring size to choosing unique wedding ring materials, we're here to help. Take our ring style quiz to find out which of our ring collections is best for you.