What Is a Micro Wedding and Should You Have One?
January 24 2021 – Mike Yarbrough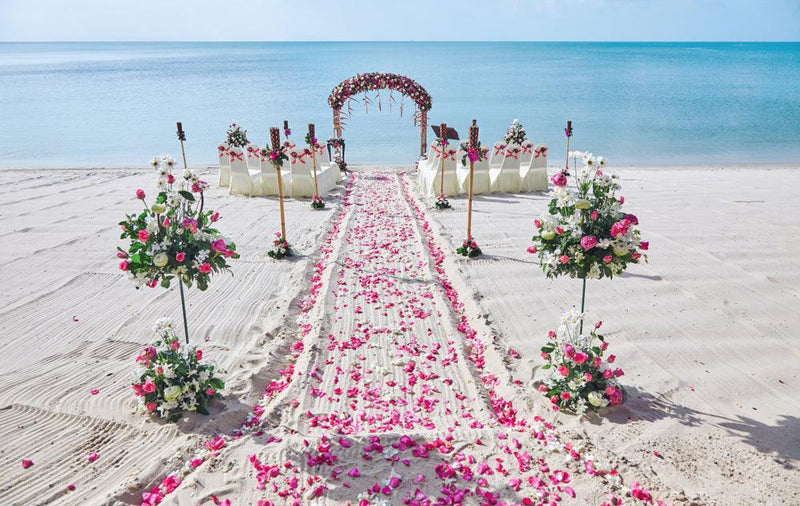 It's easy for wedding planning to spiral out of control. The average American wedding costs just under $25,000 and requires an army of vendors and planners to get off the ground. It's a huge undertaking, and more and more couples are asking the question, "Is it really worth it?" Enter: the micro wedding.
Think of a micro wedding as a super-scaled-down version of a wedding. It's become a more popular trend than ever before in the past year, as couples are being forced to rethink their wedding plans due to the COVID-19 pandemic. 
What is a Micro Wedding?
Aside from the obvious—a micro wedding is smaller than a traditional wedding—there's no clear-cut definition for what qualifies a wedding as "micro."
A micro wedding still has many of the classic elements that you typically associate with a wedding: the ceremony, reception, catering, a guest list and, of course, it's own venue (though, whether it's a traditional or non-traditional venue is up to you). The main difference lies in the size.
The guest list will be vastly pared-down, generally to around 25 guests or less. If your guest list is around 50 people or more, you're leaving "micro" behind and heading toward regular and small-wedding territory.
Why Have a Micro Wedding?
There are any number of reasons why a micro wedding may be appealing. And while there may also be a couple of potential drawbacks (i.e. you can't invite everyone on your original guest list, some of the people you don't invite might get upset) the advantages are impossible to ignore. 
Micro Weddings Are Less Expensive
If you're not into spending tens of thousands of dollars on your wedding, then a micro-wedding might be just what you're looking for. When every aspect is smaller, the costs go down proportionally. You might even be able to have a destination wedding that otherwise wouldn't have been affordable with more people. 
You Can Be More Selective About the Guest List
Trimming your guest list is a double-edged sword. Sure, you might not be able to have as many guests as you would like, but look on the bright side: you can un-invite a bunch of people who you really didn't want to invite anyway! If you have a very small guest list, those you don't or can't invite are less likely to be hurt than if you had a medium-to-large wedding and didn't invite them.
Think of downsizing to a tiny wedding as a convenient excuse to focus on the people you really want there. Surround yourself with only your closest friends and family members; the folks who have always been there for you and have been invested in the success of your relationship since day one.
Micro Weddings Are Easier to Plan
Getting married on a smaller scale will make the micro wedding planning process sooo much simpler. You may even be able to plan it yourself (although a wedding planner is still a good idea). Choose a more intimate venue and have an experience that feels more personal and special.  
You Can Get Around COVID Restrictions
Getting married during the time of COVID has proven to be a challenge, to say the least. Depending on what part of the country you call home, you might be barred from having gatherings larger than 10 or 20 people.
A micro wedding allows you to still have a ceremony with your closest family and friends. You can rest assured that you're safe, and that your wedding is in compliance with pandemic restrictions. 
It Still Feels Like a Wedding
For some couples, eloping or getting married at the local courthouse might be exactly what they want. You can abandon the trappings of a traditional wedding and get hitched on your own. That's a great option if you really want to downsize your big day, but a micro wedding is different.
One of the big advantages of a micro wedding is that, despite its scaled-down stature, it still feels like a wedding -- and it is! You still get to dress up. You still have guests in attendance. You can still eat a wedding cake. You can still hire a photographer. The point is, you can still enjoy a great, unforgettable experience.
Your Wedding Is About You
With a big wedding, it's easy to become lost in the overwhelming details which, when you get right down to it, don't have much to do with why you're there. Downsizing to a micro wedding allows you to re-focus on what really matters: two people dedicating themselves to one another for the rest of their lives. 
Still deciding between having a traditional wedding or a micro wedding? Take our wedding style quiz to find out which type of wedding may be best for you! If you've already decided,
check out our customizer page
 to get started designing your own set of custom wedding rings that tell your love story.