10 Tips for Choosing Flowers for Your Wedding
March 28 2021 – Mike Yarbrough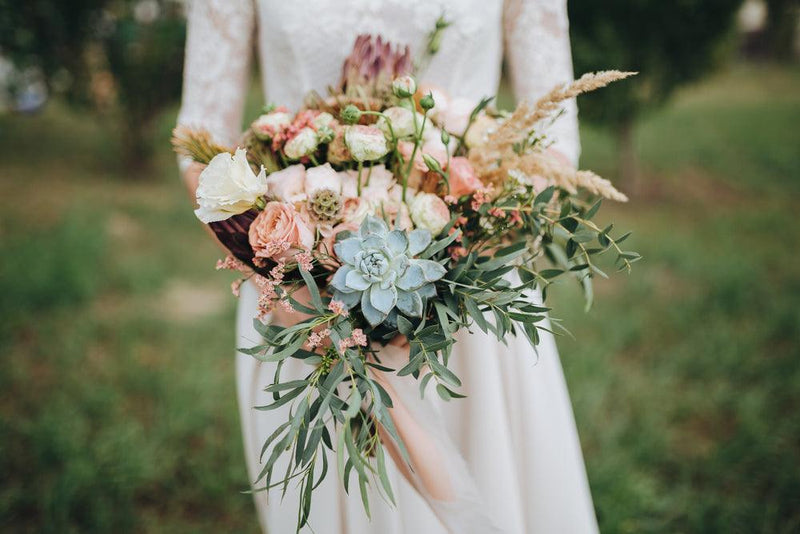 When planning your wedding, you'll be responsible for making a ton of choices: where to get married, which vendors to hire, type of dress to buy, who to invite and… best flowers to choose? While it might seem inconsequential in the long run compared to some of the other important decisions you have to make, choosing your wedding flowers could still have a big impact on your big day. Choosing the right flowers for your wedding can create an added layer of meaning for your special day while also enhancing the ambiance of the wedding venue. Here are a few ideas for how to choose the most memorable flowers for your wedding. 
1. Set Your Budget
The first step to choosing flowers for your wedding should be determining how much you're willing to spend on them. This will help you narrow down your search for the right florist and set general parameters that will guide your decision-making. Spending approximately 10% of your overall wedding budget is a good starting point. 
2. Pick Your Favorites
Make a list of your favorite flowers. It doesn't matter if they really make sense to include in your floral arrangements or not. You're just brainstorming so there's really no such thing as a bad idea. If you don't have specific types of flowers you like, start by deciding what colors you want to feature and then look for flowers that match that aesthetic. Some people like to use birth month flowers, or flowers of the birth month of a dear relative who has passed on.
3. Get Inspired
We live in an age when inspiration is never hard to find. Create a Pinterest board. Pick up some bridal magazines. Stroll through a local flower shop. There are plenty of great ideas out there just waiting to come together! 
4. Go Local
Choosing native flowers that grow in your region is a creative way to add a personal connection to your floral arrangements. Not only that, local flowers are typically inexpensive, readily available and choosing a talented hometown florist is a good way to support a local business. It's a win-win. 
5. Think About the Season
Seasonal wildflowers can give your wedding a more authentic atmosphere and add to the natural character, especially if you're having an outdoor or rustic ceremony. You can choose flowers that are in bloom during the current season, or go with ones that match the color palette at any given time of year. A few possibilities include: 
For a Spring Wedding:

Peonies, Gardenia, Tulips, Jasmine, Lilac, Iris, Lily of the Valley, Lisianthus

For a Summer Wedding:

Amaranthus, Dahlias, Daisies, Roses, Hydrangea, Phalaenopsis Orchids, Proteas, Magnolia, Sunflower

For a Fall Wedding:

Calla Lilies, Bouvardia, Yarrow, Cymbidium Orchids, Gerbera, Freesia, Hyacinth, Tuberoses

For a Winter Wedding:

Anemones, Delphiniums, Poppies, Ranunculus, Sweet Pea
6. Choose a Florist Who "Gets It"
Some florists may push certain choices on you, either because they want to charge more, or because they're more interested in their own taste than yours. This kind of pressure is not needed when you have so much on your plate already. Look for a florist who is not only talented at arranging, but who understands your desires and is committed to chasing your vision. If you feel decision fatigue or have a hard time setting boundaries with sales people, this may be a good time to enlist one of your bridesmaids to come along and help you stay on budget and make a good decision that truly reflects your taste.
7. Consider the Venue
Many brides choose wedding flowers that complement the wedding dress and the bridesmaids' dresses, but forget that the flowers should also complement the wedding location. So be sure to factor the setting and decor of the venue into your flower choices. For example, centerpieces featuring daisies and sunflowers are right at home at an outdoor summer wedding, while red roses feel more appropriate at a romantic boutique venue. 
8. Go with Look-alikes
Some flowers may not be available during the season you want to get married. Luckily, many popular wedding flowers have look-alikes that are more readily available at different times of the year. Ask your florist about look-alikes and keep them in mind throughout the selection process (as long as they fit within your overall style). 
9. Use Live Plants
Using live plants in place of traditional table arrangements has become a popular trend in recent years. Not only is it better for the environment, but it gives your reception a unique twist that guests will always remember. You can also use potted flowers or succulents as wedding favors for your guests, placing them at each table setting and allowing them to take them home at the end of the night.
Another fantastic way to add meaning to the wedding flowers you choose is to match your floral arrangement to your wedding bands -- or even incorporate your wedding flowers into the ring design itself! Made with rose petals, lavender or your other favorite flowers inlayed into the ring, floral wedding bands will tie your whole aesthetic together while giving you a memento you can wear for a lifetime.
At Rustic & Main, we specialize in handcrafting those mementos -- one-of-a-kind, custom wedding rings made from non-traditional materials that tell your love story. Use our ring customizer to start designing your own wedding ring, and feel free to reach out to our live chat team with any questions you have!