How to Determine Her Ring Size Without Her Knowing
January 10 2021 – Mike Yarbrough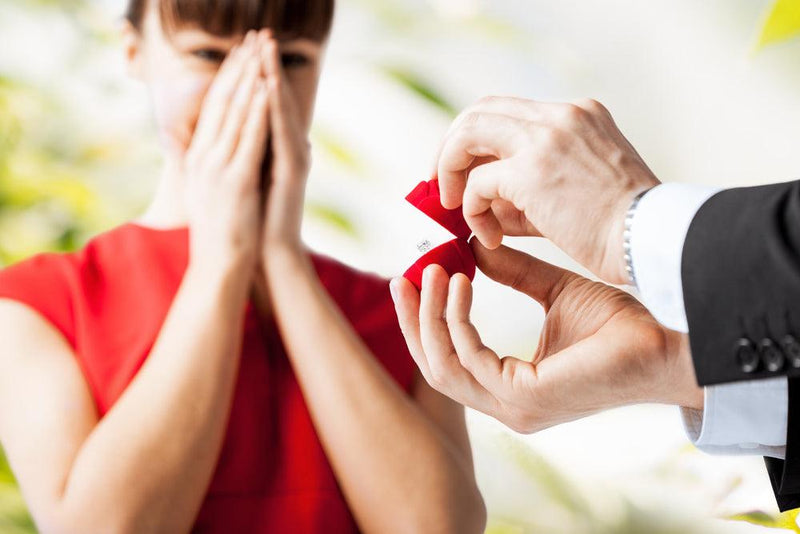 Finding your perfect ring size can be tricky, but finding out somebody else's ring size without them knowing about it... now that's a real challenge. Unfortunately, that's a problem many prospective husbands find themselves faced with. Before you pop the question, you need a ring, and before you get a ring, you need to know her ring size.
Luckily, this is an issue we have considerable experience with here at Rustic and Main. Try some of these strategies to determine her ring size without her knowing!
What's the Right Ring Size?
If you've ever tried on a ring that wasn't quite your size, then you know just how uncomfortable that can be -- and how important it is to get the right fit. The general rule of "not too tight, not too loose" still applies, but there's a little more to it than that. 
A ring should be loose enough to slide smoothly onto the finger and over the knuckle, but it shouldn't be in danger of falling off. You should be able to shake or wave your hand without the ring moving much. 
Keep in mind that everyone's hands are different. Even if two people have similar-sized hands, their fingers might have different widths, or they may have different sized knuckles that require a different ring size. Fortunately, rings are made in half-sizes and quarter-sizes, so there truly is a ring for every finger.
Methods for Secretly Determine Her Ring Size
If you need to determine ring size without her knowing, don't worry. We have a few tricks up our sleeve and we're happy to share them with you. You'll just have to get a little sneaky!
Method 1: Ask Around
You may not know her ring size but somebody else might. Ask a few people close to her, like her mom, her sister or a few close friends. Just be sure whoever you talk to is someone who can keep a secret. You don't want word going around that you're getting ready to propose. 
Method 2: Have a Friend Ask
Instead of guessing or trying to gather intel from her friends and family, you could simply ask someone else to ask your girlfriend for her ring size. If the acting and the story are believable enough, your girlfriend might not suspect a thing! The whole idea is to direct suspicion away from you while also gathering a little intel.
Method 3: Borrow One of Her Rings
You can always use a ring she already owns as a basis for determining her ring size. You could "borrow" one and take it to a jeweler to find out the size, but that's risky. A better option is to trace the inside of the ring on a piece of paper, and then use a ring sizer to match the size of the circle.
A tip: it's best to use a ring that she actually wears. That way you know it already fits her. If you dig an old ring she never wears out of her jewelry box, there's no guarantee it'll be the right size. Also, make sure it is a ring you've seen her wear on her left hand. Ring sizes can be different from left to right hand. 
Method 4: Ask Her, But Be Subtle
Mention that you're thinking about getting a ring for someone else as a gift— your mom, grandmother or another close female relative—but you're having a hard time figuring out their size. Ask your girlfriend what her ring size is, just for the sake of comparison. 
Try Our Ring Sizer
Of course, the best way to determine ring size is by using a ring sizer. Resizing a ring can be challenging, so it's best to get the right fit the first time. Most ring makers use the same standard ring sizes and the size should be the same regardless of which jeweler or source you buy the ring from. However, beware of minor variations, especially when comparing rings that are comfort fit vs. standard fit.
At Rustic and Main, we offer ring sizers that make it easy to find the size that fits perfectly. All of our rings are made with a beveled interior edge, also known as comfort fit. They slide on and off more easily than a standard fit ring; even if the sizes are technically the same, they may feel a little different. Consider the width of the ring itself as well. A wider ring, like an 8 or 9 mm ring, will fit tighter than a 5.5 or 6 mm ring and can affect what size you truly need.
Take our ring style quiz to make sure you're picking out the perfect wedding ring for her that's meaningful and matches her unique style.