Wedding Day Accessories Checklist for the Bride, the Groom and Everyone in Between
January 07 2021 – Mike Yarbrough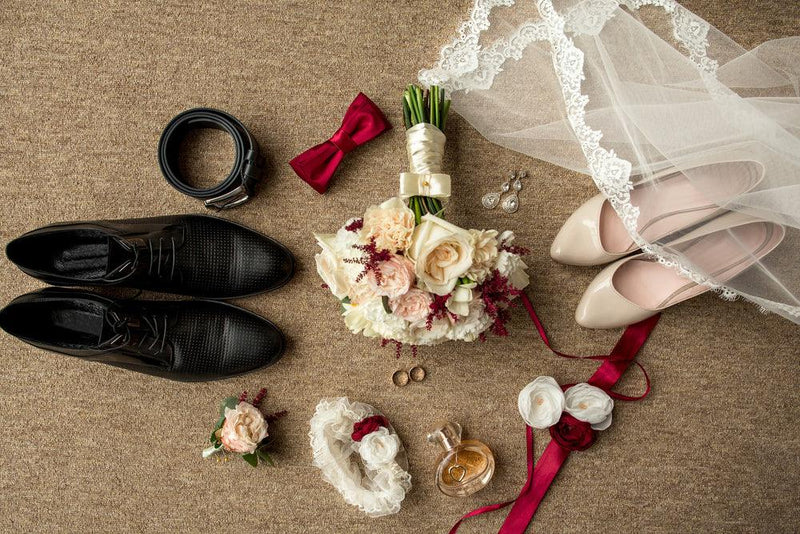 As thrilling as your wedding day can (and should) be, it can also be incredibly challenging. One of the biggest challenges is that there are simply so many things to remember. 
Hopefully, you have a good support system—wedding planner, best man, maid of honor, etc.—to help you remember all the essentials. Even so, this wedding day accessories checklist might just save the day. 
Wedding Day Accessories for the Bride
Engagement ring -

You should already have this one handy!

Wedding ring -

Even if the ring bearer, maid of honor or officiant is holding onto it, make sure you know where your soon-to-be husband's ring is!

Hair accessories -

You could choose a classic bridal veil, or perhaps a less traditional headpiece or hair accessory. Think about what will best complement your dress. It doesn't matter how well it matches the dress if you forget to bring it!  

Wedding shoes -

Make sure they complement the gown and are comfy enough for dancing. You could also bring a second, more comfortable pair to change into before the reception. 

Hosiery -

Are you wearing stockings under your dress? Maybe consider bringing two pairs in case you get a run in your hosiery.

Clutch bag -

You'll want someplace to store your wedding day essentials, like spare bobby pins and emergency snacks. 

Wedding jewelry -

You may want a bracelet, necklace or earrings that complement your wedding dress and ring. 

Garter -

It's optional, depending on whether you plan on doing the traditional

garter toss

. 

Cover-up -

In case it gets chilly, (especially if you're having an outdoor wedding) you may need a jacket, shrug or wrap for warmth.
Wedding Day Accessories for the Groom
Wedding ring -

You certainly don't want to make it to the altar and realize you don't know where the ring is! Might be best to give it to your best man or officiant for safekeeping. 

Cufflinks -

These are essential accessories that really add something to your whole wedding day outfit. 

Tie -

Whether you choose a classic necktie, bow tie or something really bold like a bolo tie or cravat, you don't want to leave home without your neckwear. 

Pocket square -

It's not just to wipe away tears of joy. It adds a dash of color to your suit or tux as well. 

Boutonniere -

This floral accessory attaches to the lapel of your suit or tux, giving it a touch of class. It's optional, but they look pretty slick.

Belt or suspenders -

It's your choice depending on what goes best with your suit. As a general rule, if you're wearing a vest, choose a belt. If not, go with suspenders.

Watch -

Depending on your attire, you may choose a nice wristwatch, or perhaps a pocket watch and chain to add style to your suit.

Waistcoat or cummerbund -

If you need them, that is. 

Hat and gloves -

If it's a very formal wedding.

Shoes and socks -

These shouldn't be too hard to remember. See if you can find a pair of dress socks that match your tie and/or pocket square. 
Wedding Day Accessories for the Wedding Party
Wedding party gifts - Don't forget your gifts for the bridesmaids, maid of honor, groomsmen and best man.
Ring carrier - Choose a wedding ring bag, pillow, or other carrier for the ring bearer.
Clothing and accessories.

Members of the wedding party should be able to handle most of their own accessories. That said, a gentle reminder for bridesmaids to remember their hair accessories and groomsmen to remember their pocket squares might be helpful. 

Flower basket -

If you have a flower girl at your wedding, remember a basket for her to carry down the aisle. 
Wedding Day Accessories for the Ceremony and Reception
Celebratory accessories -

Don't forget confetti, rice, bubbles or rose petals for your guests to shower you with at the end of the ceremony!

Seating plans -

Get escort cards and place the cards so everyone can find their seats. A seating plan couldn't hurt either, so as to avoid any confusion. 

Wedding favors -

Most couples choose some small

favors or

bomboniere

to thank their guests for attending. 

Tableware -

It's best if the tableware matches the theme of

your venue

, but your choice here is a matter of personal taste. Consider candles, table runners, napkin rings or other table accessories to set the scene for your reception.

Wine glasses or champagne flutes -

Get the glassware you'll need for the big toast.

Cake accessories -

Don't forget the cake topper and cake stand! You'll also want a cake knife so the bride and groom can ceremonially cut their first piece of the cake. 

A place for gifts -

Have a designated table, box or "wishing well" for gifts and cards. 
If you have other ideas for essential wedding day accessories, send us an email at team@rusticandmain.com to let us know! You can also get started designing your own custom set of wedding rings. And be sure to ask out about beautiful leather ring wallets to keep your one-of-a-kind wedding rings safe and secure!