Telling A Millennial Love Story: A Custom Ring For Reid
May 13 2022 – Summer Yarbrough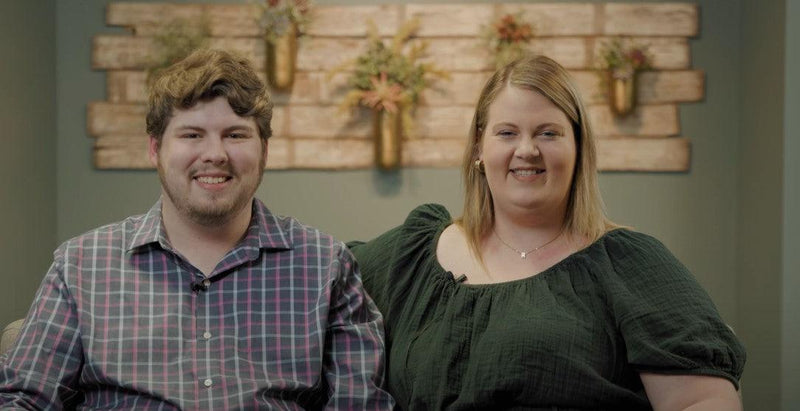 Finding The Groom's Wedding Band
Hailey and Reid weren't looking for the A-typical wedding bands from a chain jewelry store. They wanted their bands to stand out from the crowd and to tell their story. 
 They easily found Hailey's unique wedding rings at a local store but struggled to find a wedding band that was just as special for Reid. 
"For men, I think it's a lot harder to find a unique wedding band because companies expect men to all want the same kind of ring," said Hailey. 
While there's nothing wrong with a simple ring, many modern grooms want the same things Reid was looking for in a
wedding band
. They want to find a ring that fits the aesthetic they like and tells their stories.  
For those grooms, Rustic & Main is here to do just that. 
Designing a Custom R&M Wedding Band
When Hailey and Reid found Rustic & Main online, they were excited to create a custom ring for Reid.
Reid took his time designing his ring and recommended that other grooms don't overly stress about the design process. 
"Be creative and open-minded," said Reid "Take the time, sit back, and start scrolling. You will figure out what you like through playing around with the ring customizer tool." 
He spent hours and even days creating different ring designs, screenshotting them, and comparing how the different materials looked together. After many hours of toil, he finally showed Hailey the final design and then the rest of their families. 
"I love it, I love the way it turned out!" said Hailey, "Everyone is so jealous of it. When we showed his dad and my dad the ring, they both wanted it so badly. "
The Ring's Design and Materials 
Reid's coveted Rustic & Main ring is a custom
titanium band
with three inlays.  
Reid is a big fan of Maker's Mark whiskey and bourbon, and has even taken the step to become a Maker's Mark Ambassador. 
To commemorate his love for the brand, Reid chose to inlay the two outer sections of his wedding band with the natural wood from a Maker's Mark 
whiskey barrel
, which Rustic & Main keeps in our stock of unique woods. 
Reid chose to fill the inner inlay with teak from the USS North Carolina. Along with having a military history in his family, Reid wanted to celebrate that the couple was getting married in Hailey's home state of North Carolina. 
Reid also had the inside of the band engraved with the couple's wedding date, using the typewriter font. 
A True Millennial Love Story
First came Bumble, then came marriage!
This is how Reid and Hailey's millennial love story goes, and we could not be more thrilled that this couple found true love online. 
"We both swiped right, thank goodness, and on Bumble, the girl has to make the first move." said Hailey, "you're welcome." She pointedly looked at Reid with a smile while he let out a little chuckle. 
Luckily the couple met a few months before the COVID-19 outbreak happened in the US, so they got to take an exciting first date. 
Hailey coined it as the best first date ever. 
"It was definitely the most memorable first date, in a good way," said Hailey. 
Reid and Hailey had recently moved to Memphis, Tennessee, Reid from Mississippi, and Hailey from North Carolina. They both had grown up loving to watch basketball, so it only made sense to go to a Memphis Grizzly game when the FedExForum Arena was just around the corner. 
After Covid hit, Hailey and Reid's dates got even more creative, trying out new, fun experiences like drive-thru safaris. 
Instead of being distracted by a movie or an event, the couple also just spent a lot of time going on walks and talking. 
"Having to isolate together, really made us turn and focus on each other, " said Reid, "I think that helped us build a strong foundation for our marriage."
The Proposal
When the time came to propose to Hailey, Reid wanted to do it in her home state of NC. He got together with his and Hailey's families and devised
the perfect proposal plan
. 
Hailey was surprised when Reid told her to pack a bag for the weekend and that they were getting on a plane. 
"I'm usually the planner, so it caught me off guard." said Hailey, " I was a little suspicious, but I didn't know for sure what was going on."
While Reid wine and dined with Hailey, Reid's family put together the perfect
proposal set up
back at the couple's rental cabin, with rose petals, candles, and sweet photos of the couple throughout their relationship. 
"We went to a nice dinner, and I could tell he was nervous, his hands shaking while we were eating and I was like are you okay?" said Hailey "but then we got back to the cabin it all made sense."
Reid got down on one knee and popped the question, and of course, he made sure there was someone there to get video and photos of the special moment. 
Reid and Hailey's Wedding Planning Tips
As the couple planned their wedding, Hailey found that it was important to acknowledge that the wedding planning process is 
stressful
 at times
. 
Communication is Key 
"Planning a wedding is a lot of fun, but it is also a lot of work," said Hailey. "There's a lot of communication between not just you and your partner, but with your parents, vendors, and your wedding party. "
Hailey and Reid sat down at the beginning of the process and had a conversation, agreeing beforehand that if things were getting too stressful, they would communicate with each other rather than bottling it up inside. 
How to Get the Groom's Input
Hailey also had some advice for the brides whose grooms get overwhelmed by all the decisions involved in bringing a wedding together. 
"I love getting Reid's input on things, and I've learned that I can get great feedback from him if I take a bunch of options for a decision and narrow it down to three things I like." said Hailey, "He will always tell me which one he likes best, and we go with that and move on to the next thing." 
Date Throughout the Engagement
Hailey also recommended not to forget to date your partner while you're planning your big day together. 
Every engaged couple knows that weddings are not only stressful but are also usually
expensive
. It can be easy to get so wrapped up in the planning and expenses that you put on hold the relationship of the person you cherish most in the world so you can marry them. You can miss out on so many
special moments
with your partner simply by getting overwhelmed by the event of it all. 
"The wedding is one day in the grand scheme of things," said Hailey "one it comes, and it goes, you have a whole life of marriage left, so building that foundation of your relationship during engagement is even more important than planning your wedding."
Be Transparent and Make Sure to De-Stress
 "Being transparent through the whole process and communicating how you feel has been helpful," said Reid, "Being able to say this is stressful and put it down for a few minutes and just to focus on each other allowed us to pick stuff back up after with a clearer head." 
Craft your Custom Ring with Rustic & Main 
We are so glad Hailey and Reid decide to design a ring with Rustic & Main that tells their unique story. If you are interested in crafting a wedding band that tells your story, check out our custom ring options. We can use either material you send in or the variety of special materials we keep on hand.