Wedding Day Checklist for the Bride (and Some Other Things to Take Care of Before Your Wedding)
December 24 2020 – Mike Yarbrough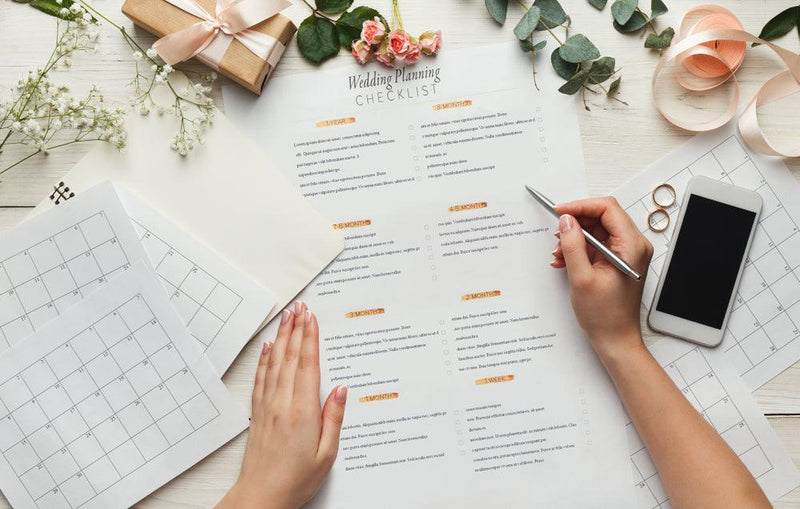 If you've just barely begun the process of planning your wedding, there's a good chance you have had a very important realization: there's so much to do. Unfortunately, it doesn't get any less hectic as your wedding day approaches. As scary as that may sound, there is a way through all the madness. The key lies in planning ahead and staying organized. 
With that in mind, here are some of the most important tasks that need to be taken care of. While your list might look a little different, this wedding day checklist for the bride should cover most of the major things that need to be accomplished in the days leading up to your big day, and on the big day itself. Of course, if you start to feel too overwhelmed, give the groom some of these jobs! He's willing to help, just needs to know where to start.
Bride's Pre-Wedding To-Do List
Take your dress for a test drive.

If you still need to pick up your wedding dress, that should be done at least a week before the wedding. Once you have your dress, be sure to try it on (along with the shoes) and practice walking in the full getup to see how it feels. 

Clear your work schedule.

Make sure everything is taken care of at the office, that way you don't have to think about work for one second during your wedding weekend. 

Put together a playlist.

From the drive to the ceremony all the way through the reception, make sure you have some good tunes ready to go!

Know who's giving the toasts.

You don't want any surprises here! Establish in advance who will be giving toasts, and in what order.

Drop off items at the venue.

If you have decorations and other items to drop off, do it ahead of time (if the venue allows it).

Confirm your vendors.

Do a final check of all your

vendors

to make sure everybody is ready to go. If anybody still needs to be paid, get those checks out.

Check the status of the rehearsal dinner.

If you're in charge of this detail, give the restaurant or

venue

a call to confirm the details. If another family member or a member of the wedding party is in charge, remind them to do it.

Get the marriage license.

Everybody wants this union to be fully legal, so don't forget about the

marriage license

! Keep it in a safe place until the big day...and don't lose it!

Make a list of other, miscellaneous things you might need.  You have a lot on your mind during this time so don't waste your energy trying to remember all of the little details. Just write them down and you can rest easy knowing you can't forget them.  Jot down everything you can think of that you might need, from toiletries and sewing kits to cake-cutting knives and other accessories, and make sure either you or someone reliable is in charge of bringing them.
Bride To-Dos on the Day of the Wedding
Take some time to enjoy it.

Breathe. Relax. Drink some water. Spend some time with the people around you whom you love, doing nothing other than enjoying each others' company. Often brides recall after their wedding that the day went by too quickly for them to enjoy and that they were exhausted at the end of it from running around. This is

your

day! Be sure to enjoy it.
At Rustic and Main, we specialize in creating one-of-a-kind wedding rings that tell your story. Reach out to our live chat team about designing your dream wedding ring.