10 Things You Need for Your Wedding that Will Definitely Make Your Life Easier
April 29 2021 – Mike Yarbrough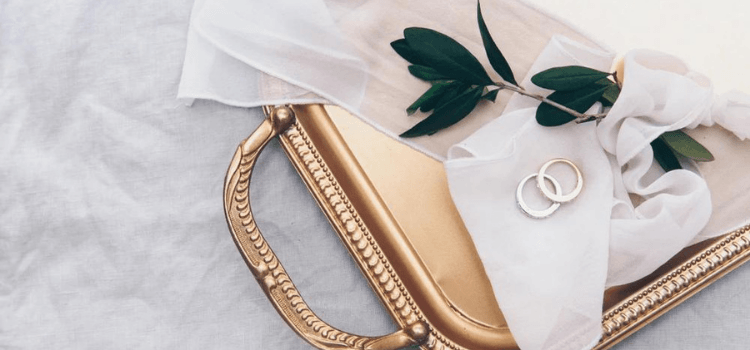 We all forget things from time to time but, when it comes to your wedding, that forgetfulness can leave you feeling more stressed out than you need to. While your big day won't come to a screeching halt without them, here are 10 things you need for your wedding that will almost certainly make your big day a little bit less hectic.
1. A Wedding Email Account
Your email inbox and texts are going to blow up as soon as you announce your wedding date, so just prepare yourself now. The best way to avoid becoming overwhelmed with messages is to include your preferred method of communication with the invitation (email usually works best). Many couples choose to set up a new email account just for the flood of questions and RSVPs they'll receive in the months leading up to the wedding. 
2. A Wedding Day Emergency Kit
You never know what might happen on your wedding day, so pack an emergency bag to cover every contingency you can think of. Include things like a Tide pen for quick stain removal, Ibuprofen in case of a wedding day headache, and a sewing kit to fix last-minute dress or tux tears. Other helpful items to include are double-sided tape, deodorant, band-aids, tissues, eye drops, dental floss, pens and paper.
3. Vendor Contact Information
If you need to contact your photographer, the caterer, your florist or the cake designer at the last minute, you'll want to have those numbers handy. Both the bride and the groom should have phone numbers for every vendor saved in their phones. It's also smart to use a platform like Google Drive to create an easily-shared document with all that important contact info on it. 
4. A Point Person
It's going to be a whirlwind day and neither the bride nor the groom have the bandwidth for people trying to contact them with every problem or question they may have. Choose a point person—typically the best man and/or maid of honor—who can deal with issues that come up, and can act as a point of contact for anyone who needs to reach the bride and groom. 
5. Your Vows
Did you write your own vows? Do you have them memorized? Even if they're not memorized, at least make sure your vows are written down somewhere and ready to go. The best way to keep track of them is to simply keep them in your pocket at all times on your wedding day, and also have a digital copy on your phone in case the paper copy gets away from you.
6. A Budget for Gratuities
Don't budget your wedding so tightly that there's no room to tip. If you have vendors that you'll be paying by cash or check, it's also a good idea to bring pre-written envelopes for payments and tips. Have all the checks written and cash divvied up into envelopes before you leave the house. Give them to someone you trust so they can pay the band, tip the servers, etc., so you don't have to think about it. 
7. Non-Wedding Clothes
You're not going to be wearing high heels and your wedding dress the whole time. Consider bringing extra street clothes (both dress and casual), and extra essentials like socks and underwear. Perhaps most important of all: bring comfortable shoes!
8. Proper Nourishment
There's an old saying about your wedding going by so quickly that you'll be lucky to eat a piece of your own cake. That may be, but take the time to eat something nourishing and drink plenty of water on your big day. Start with a healthy breakfast, and task someone in the wedding party with keeping the bride and groom hydrated. 
9. Wedding Schedule Wiggle Room
Things happen that you don't expect... the officiant gets stuck in traffic, the bride tears her dress, the best man gets sick... you just never know what might happen. Leave some wiggle room in your wedding day schedule so that if you end up falling a bit behind, you don't have to stress about it. 
10. Wedding Rings
Picture yourself standing at the altar and reaching into your pocket for a ring that isn't there. It's a horrifying, heart-pounding moment, and one you'll surely want to avoid. Take extra care to make sure you know where both rings are at all times, or hand them over to the best man, officiant or ring bearer for safekeeping on the morning of the wedding. 
Rings are, of course, one of the most important things you need for a wedding. Take our ring style quiz to make sure you're getting a ring that matches your unique tastes and check out our stock of unique, handcrafted rings!