8 Wedding Planning Tips to Help You Avoid Common Wedding Pitfalls
May 06 2021 – Mike Yarbrough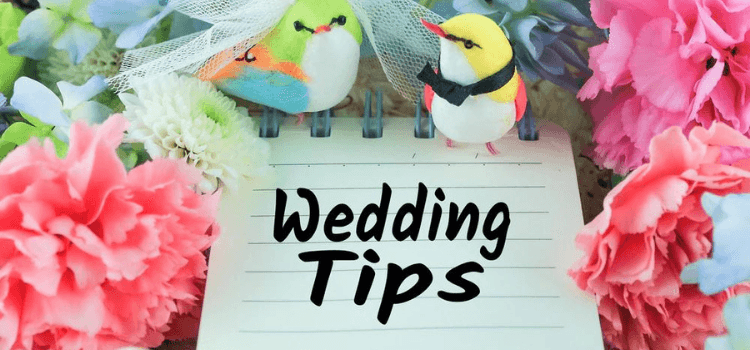 If you want to know a little secret, despite what Instagram and Pinterest might suggest, most couples don't have any idea what they're doing when they start planning a wedding. As with most things in life, you learn as you go and make mistakes along the way. Planning a wedding involves countless considerations that most of us would never think of, and involves pitfalls that are all too easy to fall into. Here are a few wedding planning tips to help you avoid those pitfalls.
1. Set a Budget First
Set your wedding budget before you do anything else. Will surprise expenses and hidden costs eventually force you to rethink your budget? Probably. But setting a basic framework for what you can spend right out of the gate will help you avoid falling in love with a venue -- or choosing a wedding dress -- that are way outside your price range. 
2. Hire a Videographer
Deciding not to have your wedding professionally filmed is a common way to cut costs but it's a choice you may come to regret. In fact, one of the most common regrets couples have after their wedding day is that they didn't hire a videographer. Your wedding will go by in a flash and hiring someone to film the big day is a fantastic way to relive it years from now. 
3. Think Before Eloping
Look, we have nothing at all against eloping. It's a great way to reduce stress, save money and refocus your wedding on what really matters. But some couples decide to elope without fully thinking it through and come to regret it later. Make sure you're both okay with getting married without the fancy dress, the lavish venue, and all your friends and family present.
4. Have a Bad Weather Plan
It's shocking how many couples plan to get married outdoors and assume the weather will be perfect. If you intend to have an outdoor wedding, make sure you have a backup plan in case of rain, snow, or otherwise inclement weather. That could mean having an alternate venue lined up, or investing in a wedding tent big enough to keep all your guests dry. 
5. Don't Try to Please Everyone
Everybody has an opinion and when you're getting married they won't hesitate to let you know. But remember: your wedding day is about you and your soon-to-be spouse. It's okay to politely say "thanks but no thanks" when you receive unsolicited wedding advice. 
6. Consider Working With a Wedding Planner
You might think you can plan a wedding all by yourself. And you might be right! But "can" and "should" are two different things. Even planning micro weddings can be a tremendous amount of work. It's impossible to overstate the value of all the skill and experience a great wedding planner brings to the table. Wedding planners work within all budgets and plan weddings of every type and size, so finding a good one shouldn't be too difficult.
7. Don't Observe Tradition for Tradition's Sake
Want to see each other before you reach the altar? Don't want to throw your bouquet? Prefer not to have a best man or maid of honor? No problem! If there's a common wedding tradition you don't really like, don't be afraid of throwing it out the window. It's your wedding after all!
8. Avoid Inviting Too Many People
It's okay to have a small wedding, and it's okay to not invite everybody you know. One of the most common wedding regrets is inviting so many people that the wedding day ends up feeling more overwhelming than fun. Some couples also over-invite because they assume that a certain number of people they invite won't be able to attend, but then end up with more RSVPs than they can handle.
Are you a bohemian flower, a vintage revival, a charming rustic, or an absolute classic? Take our wedding style quiz to find out! While sticking with these wedding planning tips will hopefully get you through the most stressful parts of setting up your wedding, at Rustic & Main, we're dedicated to one of the most essential wedding planning steps: picking out the perfect wedding ring! Get started designing your own custom wedding band today, or reach out to our live chat team to learn more!