Make the Mood: A Simple Wedding Decor Checklist to Help With Planning
May 10 2021 – Mike Yarbrough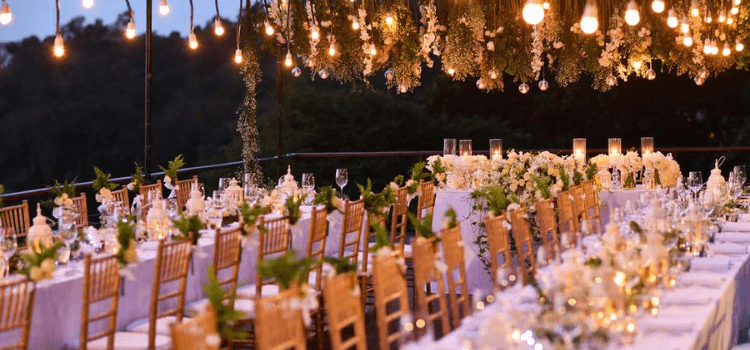 There are many ways to make your wedding unique. From personalized vows and custom wedding rings to micro-weddings and non-traditional venues, you have endless opportunities to create an experience that tells your story and expresses your commitment to your spouse. 
Wedding decor can also play a role. Whether your wedding is lavish or minimalist, the decor has a huge impact on the atmosphere and "feel" of the big day. Use this wedding decor checklist to make sure all the important details are present and accounted for on your wedding day and your wedding plans go off without a hitch (no pun intended). 
Ceremony Decor
In addition to accents like ribbons, lights and floral decorations, the most crucial elements of the ceremony decor are signs. While you may want to vary the signage depending on the specific needs of your ceremony and venue, it's important to provide directions for your guests, as well as all the information they need to fully enjoy the ceremony. 
Welcome sign

Seating instructions sign

Order of service sign

Reserved seating signs

Ceremony programs

Program display

Vow books

Aisle runner, aisle decor and pew ends

Ceremony arch and backdrop

Decorative candles or lanterns

Bride bouquet

Bridal party bouquet

Basket and petals for flower girl

Ring pillow

Guest book table, guest book, sign and pens
Reception Decor
Wedding reception decor includes a fair amount of signage to point all your guests in the right direction. The reception also offers ample opportunities to get creative with your decorative style, though this can present some challenges of its own. The good news is, some of the reception decor can be brought over from the ceremony, including the guest book table and welcome signage (to be placed in parking areas, entrances and near restrooms). 
Gift table and decor

Card receptacle and sign

Table plan/seating chart

Menu sign and/or tent cards

Decorative candles or lanterns

Hanging decor (lights, lanterns, balloons, floral arrangements)

Dessert table and table decor

Favors and/or favor table decor

Lounge seating and side tables

Cake stand, serving set and topper 

Bar or drinks station with menus
Table Decor
While table decor is technically part of the overall wedding reception decor, it's also a large enough category that it might be helpful to think of it separately. Wedding dinner table decor includes everything your guests need to eat and enjoy their meal, a few ornamental touches and—you guessed it—plenty of signage. 
Tablecloth and/or table runners

Floral centerpieces or garlands

Candles or lanterns

Table number signs and/or table number holders

Place cards

Menus (per person or per table)

Glassware (wine and water glasses, champagne flutes)

Plates and cutlery

Napkins and napkin decoration

Table games and kids activities
Wedding Decor Tips
The wedding decor checklist will look different for every wedding and venue type. While the decor can be as simple or as luxurious as you want it to be, just keep a few basic tips in mind: 
Start With the Mood
You don't have to pin down every aspect of your wedding decor right out of the gate. Start with broad strokes and decide what you want the overall mood and style to be. Are you going for classic? Bohemian? Rustic? Glamorous? Once you decide on the overall aesthetic, the individual elements will fall into place more easily. 
Take Advantage of Your Surroundings
The wedding venue or location can be part of the decor, and should certainly play a role in guiding your design choices. For example, a church will already have elements like stained glass windows, pews and ceiling fixtures that can enhance the decor. If you're having an outdoor garden wedding, look for elements like trees, paths and fountains that you can naturally meld into your decor. 
Be Flexible With Color
Your color scheme should be thought of as a general guideline, not necessarily a strict rule. It helps to work within a broader color palette rather than trying to stick to a few rigid colors. 
Focus on the Essentials
Don't let all the fine details overwhelm you. Start with the big, essential items like tables, chairs, lighting and the wedding arch or backdrop. Begin with these major items you can't do without and then build outward to establish the smaller details. Consider hiring a wedding planner who will know exactly what to do, taking much of the weight off your shoulders.
The decor is a big part of making your big day special, so make sure it matches your wedding style. Take our wedding style quiz to discover which type of wedding is most suitable for your tastes and lifestyle.